For Advanced Lightning Protection Systems in the Midland, TX, Area, Look to Lightning Master®
A lightning protection system can help to keep your company's tanks, buildings, and other structures safe from the havoc that a lightning strike can cause. In Midland, Texas, and throughout the region, companies in a diverse range of industries have turned to Lightning Master® to help them avoid the destructive consequences of a lightning strike, such as fire, employee injuries, and expensive equipment damage. We've been an innovator in the industry since our founding in 1984, and our in-house engineering and manufacturing programs help us produce high-quality, custom-made products that feature the latest technological advances.
In addition to the oil and gas industry, which relies on Lightning Master to provide comprehensive lightning protection for their facilities in the Midland, TX, area, our products are ideal for: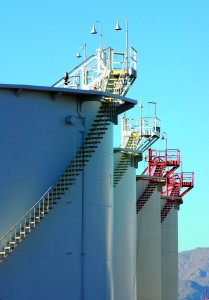 Airports
Mining facilities
Data centers
Schools
Entertainment parks
Process control plants
Movable structures
Broadcast and cable facilities
Water treatment plants
Communications towers
Electric co-ops
And more
The lightning protection products that we manufacture and install are much different from traditional lightning rods, which were originally designed to prevent fires by sending the electric current from a strike into the ground. Instead, our products eliminate the conditions that lead to a lightning strike in the first place so that your employees, structures, and systems remain safe. Our complete line of innovative products include Streamer Retarding Air Terminals (SRATs), windsocks, candelabras, In-Tank Static Drains (ITSD), and spot and linear dissipators, all of which can be custom designed for various industries, structures, and situations.
Contact Lightning Master today if you are interested in the turnkey lightning protection solutions we provide for businesses in Midland, TX, and the surrounding area.